Time for a global agreement on minerals to fuel the clean energy transition

© Airman 1st Class Nadine Y. Barclay/Nellis Air Force Base
Wind and solar infrastructure, batteries and electric vehicles all require vast amounts of mined (and recycled) resources. These range from copper for wires and electric motors, to lithium and cobalt for batteries, to smaller amounts of rare metals like indium and gallium for solar cells.
The problem is that the current system for mining these minerals is not always efficient; it's polluting and is subject to increased social pressure and public protests. Instead, we need a new international mechanism to coordinate global mineral exploration that looks to our future supply needs.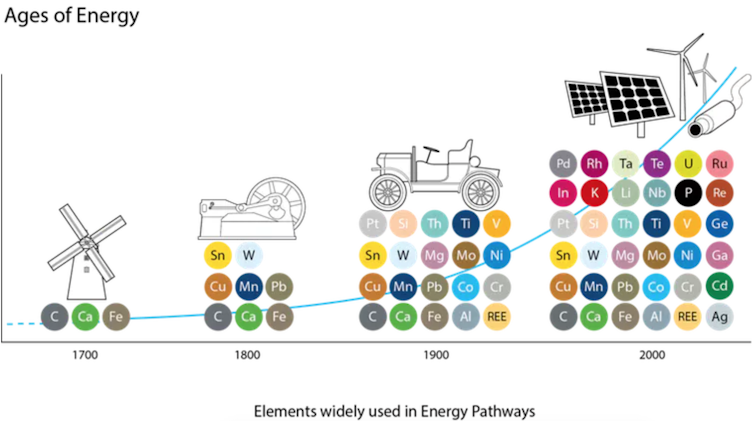 As technology advances, more and different metals are needed. Zepf V, Reller A, Rennie C, Ashfield M & Simmons J, BP (2014): Materials critical to the energy industry.
Challenges for minerals supply
While the Paris agreement has created a global framework for managing carbon, nothing similar exists for minerals. This leaves the pursuit of sustainable resource development largely in the hands of mining companies and state-owned enterprises.
Mining these resources generates significant water and air pollution. This problem is increasing: for example, global copper ore quality is declining over time. That means that copper mining now requires excavating twice as much ore as ten years ago to yield the same amount of copper, creating much more mine waste.
Lower commodity prices have meant that investment in exploring new mine sites has fallen. But it takes a long time to develop new mines – it can often take 20 years to go from finding a metal deposit to beginning mining, and only around 20% of discoveries since 2000 have led to an operating mine.
Lack of investment in exploration is driven by short-term thinking, rather than a long-term plan to supply rising demand.
In parallel, resistance to mining, often at a local level, is increasing worldwide. Environmental catastrophes, of which there have been manyexamples, erode social trust, often delaying or stopping mine development.
A new global mechanism to more effectively plan resource supply could help rebuild trust in local communities, limit price spikes to ensure equitable access to metal resources, and balance the international tension which arises as industries and governments compete for minerals from a shrinking list of countries able to tolerate and profit from sustaining a mining industry.
A global agreement on mineral resources
Developing a global mechanism will of course be difficult, requiring substantive dialogue and strong leadership. But there are organisations that could step up, such as the United Nations Environment Assembly, or the newly established Intergovernmental Forum on Mining Metals and Sustainable Development.
The global community is well aware of the threat that rising sea levels pose to low-lying countries. We need similar awareness of the crucial role minerals are playing in the energy transition, and the risk that supply problems could derail sustainability goals.
To that end, we need to globally coordinate several crucial aspects of mineral development. To start with, while most detailed information on where minerals are mined and sold is privately held, there is publicly available data that could be used to predict possible imbalances in supply and demand internationally (for example copper, iron, lithium, indium). Publicly-funded institutions have an important role here. They can assess how known supply will meet future demand, and deliver insight into the changing environmental impact.
It should also be entirely possible to develop inventories of recyclable metals, which can be an important supplement to large mining operations.
Compiling inventories of recyclable metals is underway across Europe as part of a move towards a circular economy (where as much waste as possible is repurposed).
While recycling for for metals like lithium for less than 1%, around 40% of steel demand is met from scrap recycled during manufacturing and from end-of-life products and infrastructure. Thinking smarter about eventual dismantling of buildings at the time when they are built, can support better use of recycled resources.
Geoscience agencies already offer maps of underground minerals, demonstrating that this kind of co-ordinated perspective is feasible. Extending this approach to recyclables can mitigate environmental impact and ease the social objections to new mines.
A global mechanism for mineral exploration and supply could also be an opportunity to promote best-practice for responsible mining, with a focus on social license and fair and transparent royalty arrangements.
Overcoming resistance
It's a challenging proposition, especially as many countries display less enthusiasm for international agreements. However, it will be increasingly difficult to meet the Paris targets without tackling this problem.
In the decades ahead, our mineral supply will still need to double or triple to meet the demand for electric vehicles and other technologies required by our growing global population.
In short, resource efficiency and jobs of the future depend on an assured mineral supply. This should be a nonpartisan issue, across the global political spectrum.
Damien Giurco is Professor of Resource Futures at the University of Technology Sydney.
Nicholas Arndt is Professor of Geosciences at the Université Grenoble Alpes.
Saleem H. Ali is Distinguished Professor of Energy and the Environment at the University of Delaware (USA) and Professorial Research Fellow at the University of Queensland.
[This article originally appeared on theconversation.com]